Dear Reader, Cast Your Vote on this story below on this page: Let Me Vote!
WITH AHMED SUJEE AND JOZIFLY
YELLOWS ON THE TAKE!
It was a gloomy start to the long-awaited trip to Arendsnes on the Vaal.

Ahmed Sujee (SOLOMONS FISHING) and JOZIFLY (Yaqoob Tarmohammed) was wary of all the odds being against them and kept a close eye on the weather and the river flow rate which at the time was not looking good at all.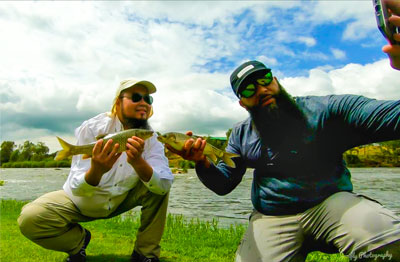 With all the odds being against them and talks of calling off the trip, the decision was made and the trip was on. Cars packed and off they went, they arrived at the venue at 9.30 and were welcomed by caretaker Dirk, who gave them the best news of the day, THE RIVER IS FLOWING GREAT AND THE FISH ARE ON!!!
Excitement all around we eagerly set up our gear and headed down to the water. A quick briefing on what, when, where and how, we got our lines in the water and BOOM FISH ON the first cast and first yellow for JOZIFLY!!!
Adrenalin pumping, it's an ecstatic start to the morning. A few more casts and BOOM BOOM BOOM !!! FISH ON, DOUBLE UP!!!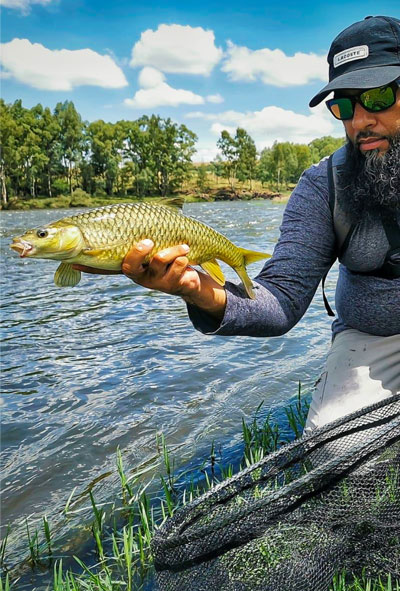 Two Beautiful yellow fish, which were safely released. The day went on until lunchtime which gradually slowed down. A short break to have a quick bite and take in the wonderful birdlife and serenity of the Vaal River. Returning to the waters saw several more fish landed and safely released.
The end of the day had finally come and it wasn't a gloomy day at all. Several Outstanding yellowfish and a day with perfect weather.
I definitely will be visiting Arendsnes again in the near future.
SOLOMONS FISHING AND JOZIFLY SUPPORT CATCH AND RELEASE. KEEPING THE ENVIRONMENT HEALTHY AND SUSTAINABLE FOR OUR FUTURE.
TIPS AND TECHNIQUES FOR THE DAY
JoziFly: Euro Nymphing
● Rod 10ft 5wt HLS Highlander Series
● Reel Reel XL RFF
● Line Rio Euro Nymph Line
● Rig Euro Nymphing
● Flies by JoziFly
Ahmed Sujee (Solomons Fishing) : Indicator Nymphing
● Rod 9ft 5-6wt Stealth Strike 4pc
● Reel Stealth V2
● Explorer WF5 Floating
● NZ Style Suspension nymphing Rig
● Flies by JoziFly
Getting the flies into the zone is important, and as quick as possible, a good drag-free drift is essential in fooling your quarry, higher than prime flows required heavier flies and thinner tippet, 5x Fluorocarbon being the choice of the day. Reading and understanding the water, where fish could be holding and the aquatic insects they may be feeding on and imitating them
as close as possible are the key ingredients to a successful day on
the river.